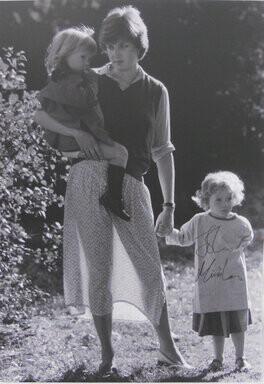 DIANA SPENCER by JOHN MINIHANE

"I remember one morning in 1980 reading the Daily Mail really early. Nigel Dempster had a story saying Prince Charles had relinquished his relationship with Sarah Spencer and was now seeing her younger sister Diana, who worked in a kindergarten in Pimlico.
I'm straight down there. I'm the only photographer. I knock on the door a lady comes out. I tell her, 'I'd like to speak to Lady Diana Spencer...'.
Within a few minutes, Diana came out, a very bubbly vivacious teenager. She said, 'What would you like me to do?'. I said I'd like to take a photograph with a couple of the children. One of the other assistants said we'd have to get permission from the parents of the children. And after about 15 minutes that was arranged and we went out into the garden.
I could see how the light has just reflected her legs through her dress, and that made the picture. And I photographed her holding a child in a Madonna-esque way.
Photograph by
John Minihan. © University College Cork
Afterwards, Prince Charles went on record to say that he didn't realise she had such good legs.
About three or four days after I took this picture, she came out of her flat in Coleherne Court, and was followed in her mini by a fleet of motorbikes, cars, taxis, etc — of which i was one myself — but when she got to Barkley Square, she parked her car and went into the square and sat on the wooden bench and burst out crying.
At that point, I phoned up the picture editor and said I'm not going to take that photograph. Instead, I went and bought a half a dozen roses and I went back to her apartment and rang her bell. I went across the road as I knew she'd look out the window, and when she saw me, she came down stairs. I gave her the flowers and said 'These are from the bona fide Fleet Street photographers'."