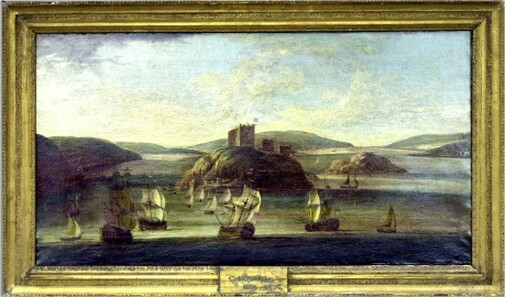 William Van Der Hagen

Oilpainting entitled "Cork Harbour 1738"
(48 x 91cm – 19 x 36 ins) depicting the island of Haulbowlinewith the castle which was the former clubhouse of The Water Club, and numerous sailing vessels in Cork Harbour.The Water Club of Cork Harbour, now the Royal Cork Yacht Club, was established in the year 1720 and is recognised as being the oldest yacht club in the world.

Sold for €360,000


William van der Hagen
(b The Hague, fl c. 1720; d Ireland, 1745). Dutch painter and designer, active in Ireland. Having worked in England and on the Continent as a topographical painter, in the early 1720s he left England for Ireland, where he soon became the country's first resident professional landscape painter. In October 1722 Dublin's Theatre Royal opened with a production of Alexander the Great, which was advertised as having 'lofty scenes entirely new and painted by Mr Vander Hagen, lately arriv'd from London' (Harding's Impartial Newsletter, 29 Sept 1722). In addition to his theatrical designs, he painted views of ports, idealized landscapes and decorative capriccios in country houses. He benefited from the rising prosperity of Irish cities that occurred in the second decade of the 18th century: Edward Lovett Pearce's Irish Houses of Parliament were begun in Dublin in 1729, and shortly afterwards van der Hagen was commissioned to design tapestries for the House of Lords (now the Bank of Ireland). Only two were executed; they represent historic moments from military victories by William III, the Defence and Relief of Londonderry and the Landing of King William and his Army at Carrickfergus (both in situ). He was greatly patronized by the aristocracy and decorated a number of country houses (e.g. Curraghmore, Co. Waterford; Beaulieu, Co. Louth). In 1736 he was paid £20 by the Corporation of Waterford to paint a View of Waterford (Waterford, Town Hall); this bird's-eye view is one of the earliest extensive views of an Irish city.